Essential Instructional Practices in Early Literacy: Prekindergarten
Document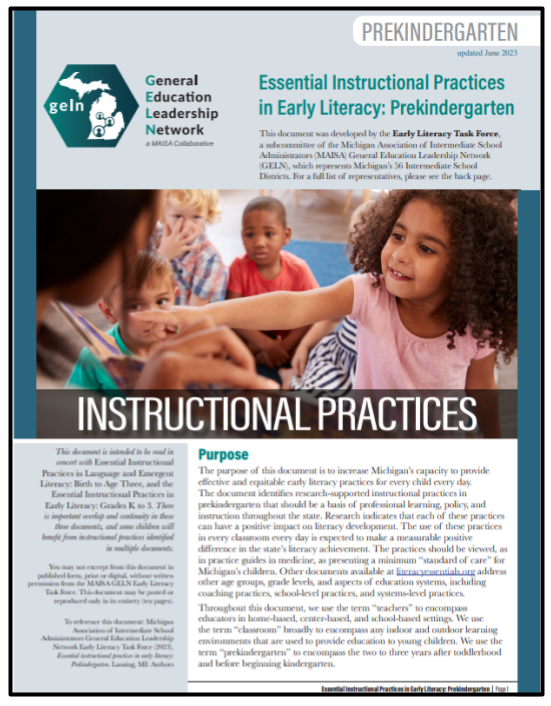 The purpose of early literacy essentials is to improve children's literacy in Michigan. Professional development throughout the state can focus on this set of research-supported literacy instructional practices for daily use in the classroom.
Early childhood education can help improve reading-by-third-grade outcomes. Pre-K education also can address disparities in literacy achievement. Research suggests that each of the 10 practices outlined in this document can have a positive impact on literacy development.
The use of these practices in every Michigan classroom every day can make a measurable, positive difference in the state's literacy achievement.
E1, Bullet 1
E1, Bullet 2
Pre-K Essential 3, bullet 1: Leading children in Higher-order Discussion
Pre-K Essential 3, bullets 2&3: Interactive Read-Alouds and Vocabulary Development
Pre-K Essential 3, bullet 4: Using New Vocabulary Throughout the Day
Pre-K Essential 3, bullet 5: Teaching Vocabulary in Clusters
Pre-K Essential 4, bullet 1: Creating Variations of Literature
Pre-K Essential 4, bullet 2: Singing Songs to Promote Phonemic Awareness
Pre-K Essential 4, bullet 3: Sorting using Sounds
Pre-K Essential 4, bullet 4: Playing with Sounds
Pre-K Essential 4, bullet 5: Playing with Sound Segments
Pre-K Essential 5, bullet 1
Pre-K Essential 6, bullet 1: Interactive Writing Experience
Pre-K Essential 6, bullet 2: Using Scaffolded Writing
Pre-K Essential 7, bullets 1, 4 & 5: Expanding Children's Language Skills
Pre-K Essential 7, bullets 2 & 3: Engaging in Extended Conversations with Children
Pre-K Essential Essential 8, Bullets 1-5 Abundant Reading Materials Sample Video
Pre-K Essential Essential 9, Bullets 1, 2 & 4 Ongoing Observation Sample Video
Pre-K Essential Essential 10, Bullets 1-5 Promoting Literacy at Home Sample Video