All of us want children throughout Michigan to be successful. An important part of student success centers around proficiency in reading. That's why a group of education experts developed new approaches for teachers to use in the classroom.
Literacy Essentials are free documents designed for Michigan educators to improve childhood literacy development. The Literacy Essentials provide research-proven, effective approaches to markedly improve literacy skills among Michigan's youngest students.
Using the Literacy Essentials with every child, in every classroom, every day will help improve literacy among our youngest learners.
Essential Instructional Practices Compilation Book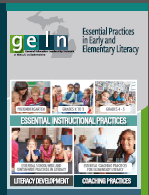 A compilation of all Essential Instructional Practices in one book. These booklets can be purchased by districts from International Minute Press at (517) 323-7777 or by emailing lansing-mi@intlminutepress.com. Request copies of the "Coaches' Essentials Booklets". Booklets with tabs are $6.13 per book and without tabs for $4.00 per booklet.