Essential Practices for Disciplinary Literacy Instruction in the Secondary Classroom: Grades 6 to 12
Document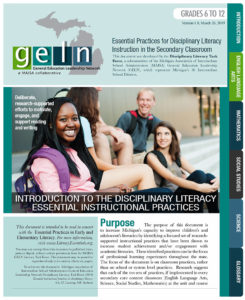 The purpose of this set of essential instructional practices for grades 6 through 12 is to improve Michigan students' academic literacies and content learning at the secondary level. Professional development throughout the state can focus on these research-supported literacy instructional practices for regular use in the classroom.
Expert research suggests that 10 sets of practices outlined in this document can have a positive impact on both literacy development and conceptual learning of content. The consistent use of these practices in every Michigan classroom can make a measurable, positive difference in student learning and improve the state's literacy achievement
*Printing of the Essential Practices for Disciplinary Literacy Instruction in the Secondary Classroom (Grades 6-12) Booklet: These booklets can be purchased by districts from International Minute Press at (517) 323-7777 or by emailing: lansing-mi@intlminutepress.com. Request the "Literacy 6-12 Packet". Booklets with tabs are $6.48 per book and without tabs, $4.24 per book.